IV Polish Mining Congress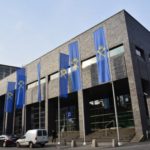 We would like to invite you to the IV Polish Mining Congress which will be held on 20-22.11.2017 in Krakow, the Auditorium Maximum of the Jagiellonian University at Krupnicza Street 33.
Congress will be held under the slogan:
Mineral resources in Poland's economic strategy – how to mine, how to acquire, how to save in the era of sustainable development?
The objective of the Polish Mining Congress is to integrate the mining environment around:
energy and raw materials security in Poland;
defining the role and location of the mining industry in the era of sustainable development policy;
 implementation and use of modern technical and IT solutions in mines;
undertake extensive informational actions on the management of mineral resources and their mining processes, an important element of which is mining.
See also: